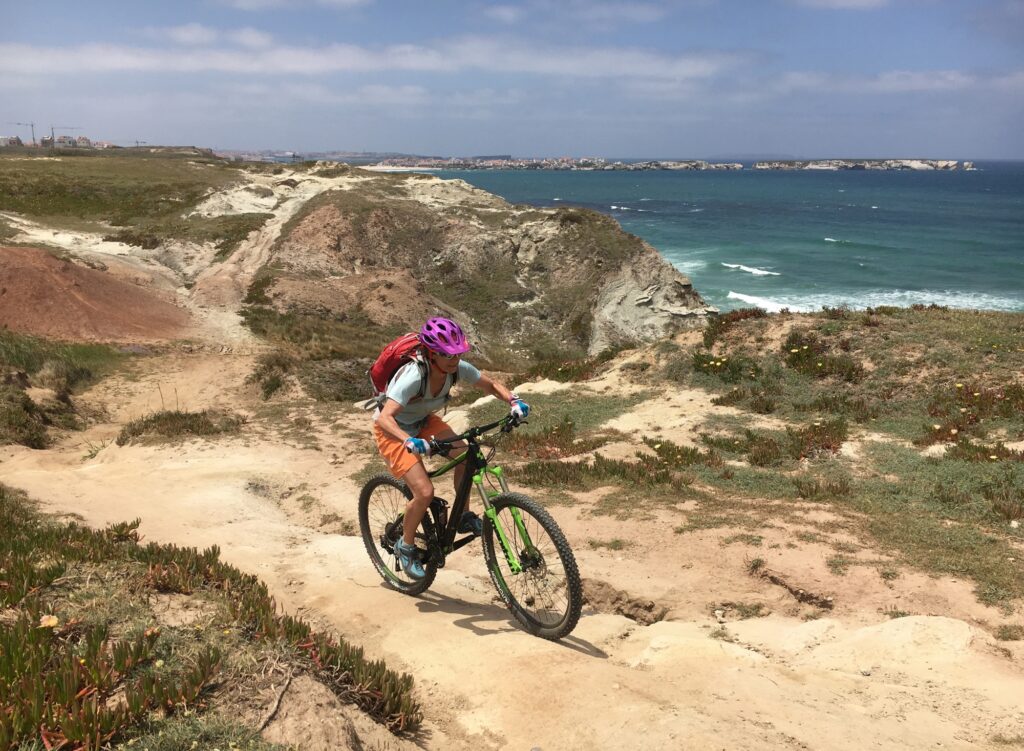 As an outdoor enthusiast and sports lover, you are often faced with the question of which sport to try next. Driven by curiosity and the urge to develop yourself further in sports, you have already become fond of many activities. Or you would like to do more sports, but don't really know which sport suits you.
No matter where you are at the moment, one thing is for sure: something new has to be done.
Learn why mountain biking is the answer with our three powerful arguments.
Number 1 – Action, sport and lots of fun
If adrenaline is your friend, if you always like to push your comfort zone and if fun plays an important role in your activity, then we are not so wrong here. For you sport is not a means to an end for a fit and beautiful body – these are great side effects but not your motivation. Sport should not rob you of time, but enrich your lifetime. When biking, you ride through the most beautiful landscapes, torture yourself uphill and overcome fears on challenging downhill runs or trails. The feeling afterwards is invincible – you are filled with feelings of happiness and pride when you have created something new again.
The great thing about mountain biking – set the level of action and adrenaline yourself! Always choose tracks that match your level and what you want to do. Sometimes you want to take it easy and sometimes you want a challenge with more extreme trails and descents. Or you get action from the variance in your speed – your tour can be a coffee ride or a fast descent through the forest. Then biking becomes a pure action affair just because of the speed and the variance in your riding style. This sport offers you a lot of possibilities to determine your adrenaline level!
But especially at the beginning you should assess your skills correctly and don't dare to go on too crazy trails. This only drains your strength and concentration and can lead to accidents. Especially if you are just learning, it is better to be in company in the beginning. Maybe combine your first MTB experience with a holiday and explore Portugal on a bike together with others.
Number 2 – Get in shape with mountain biking
Let's be honest, most of us could probably get rid of a kilo or two…right?! Like any other sport, mountain biking has very positive effects on your statue and weight. Coordination, muscles and the cardiovascular system are trained and you can burn a lot of calories on a tour. The best combination actually, because biking builds up important muscles needed to burn fat, which then burn fat while riding.
Muscles that are particularly stressed: Your heart muscle aka the pump! Your heart rate is increased and the blood supply to the heart is improved. Regular biking can therefore protect you from a heart attack. Continue with the gluteal muscle, the front thigh, the lower leg, the calf muscle, the shinbone and the back muscles. Wow – quite a lot, isn't it?!
Last but not least, your balance and coordination skills will be challenged and trained when biking. You have to be able to keep your balance on your MTB on unsafe terrain. You also need to be able to react quickly.
Number 3 – Being in nature and finally switching off
A good concentration is essential for your safety when mountain biking. If your focus is not on the track in front of you, falls and injuries can occur. For this reason alone, mountain biking is almost meditative. You can only function in the present moment. It's just you and your heartbeat with the rush of adrenalin. In addition to this factor, mountain biking is above all one thing – an outdoor sport. An activity outdoors, in nature – be it in the forest, the mountains or on the coast. Explore nature on your bike and feel how the happiness hormones fill your body. Here you can switch off your head with all your thoughts and worries. Because it's great – on a mountain bike you make a good run and move through terrain that is only narrowly frequented. The chance to meet many people is relatively small. What a wonderful idyll.
Have we convinced you a bit and do you now feel like you want to give mountain biking a go? Excellent.
In this case we have a great tip for you: how about a trip to beautiful Portugal? Here you can use the Da Silva Surfcamp as your base and go on different tours in company. You will get to know the country and its people. High-quality CUBE bikes are provided. Perfect to try for the first time! For more information click here.